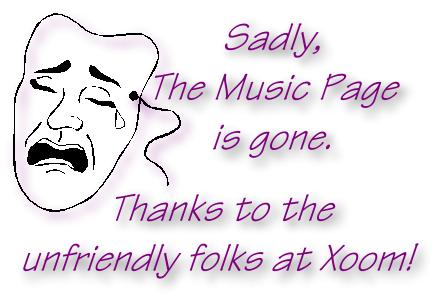 If any of you had ever visited my music site,
you know there were some 700 songs on the site.
On September 7th, Xoom.com, without any warning
or notification to me, deleted all my files.
Well, I went through depression over it...I considered giving up...
but then I got a letter from one of my fans...
She knows who she is...because until I got that letter I hadn't cried
over it...
And
I'm Back!
Look for the new Music Site on 10/1/99
with most of the links fixed and a TON more songs!
Thanks, Cuddles for putting fire back in me! ;-)
There is still alot of work to be done...
but this is my victory song...to XOOM!

KASHMIR
Jimmy Page / Robert Plant / John Bonham
Oh, let the sun beat down upon my face
With stars to fill my dream.
I am a traveler of both time and space
To be where I have been.
To sit with elders of a gentle race,
This world has seldom seen,
With talk of days for which they sit and wait
When all will be revealed.

Talk an' song from tongues of lilting grace
Whose sounds caress my ear,
But not a word I heard could I relate,
The story was quite clear.

Oooh, oh baby, I've been blind.
No-yeah, ah mama, there ain't no denyin'.
Oh, oooh yes I've been blind.
Mama, ain't no denyin', no denyin' yeah.

Oh! All I see turns to brown
As the sun burns the ground
And my eye fill with sand
As I scan this wasted land.
Tryin'a find, tryin'a find
Where I been.

Oh pilot of the storm who leaves no trace
Like thoughts inside a dream,
Who hid the path that led me to that place
With yellow desert screen.
My Shangri-La beneath the summer moon,
I will return again,
Sure as the dust that blows high in June
When movin' through Kashmir.

Oh father of the four winds, fill my sails
'Cross the sea of years,
With no provision but an open face
To float on the straits of fear.

Whoa! When I'm on,
When I'm on my way, yeah!
When I see,
When I see the way you stay~yeah.
This is the new site...
http://www3.cybercities.com/r/rhonda52/
Go there and bookmark it...
Most of the songs I still had on my computer....
and the ones I didn't will be marked as "Broken"
If you have them
please email them to:
rhonda52@earthlink.net
Thanks to Linda A for all her help in this area! :-)
Together we can make this the kewlest music site on the net!!!
Thanks!
Rhonda52
KEEP ON SMILING! :-)
AND
DON'T LET THE
_ _ _ _ _ _ _ _
GET YOU DOWN!!!!!!
The Madonna Festival Songs have been
moved to the new music home page...
check it out...click on the button below!


See Ya for the GRAND UNVEILING ON
OCTOBER 1, 1999
MARK YOUR CALENDARS...
looks at her calendar and panics...hey Guys...
that is only two days away!!!!!!!
Thanks for hanging in there with me, Guys...
I love you all.
And soon the music page will be back in tip top shape!
If you want to know how you can help me....
just e-mail...
rhonda52@yahoo.com
and I will tell you how.

Kashmir by Led Zepplin